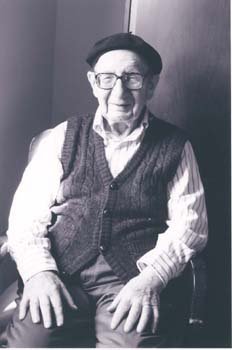 Researchers searching in GAVELfor materials on international law and international relations will likely discover items with a location of "Louis B. Sohn Library on International Relations." This special collection, housed in the Dean Rusk International Law Center, includes the extensive library that Professor Louis B. Sohn built through years of working with the United Nations and the United States government as well as decades of teaching at Harvard Law School, the University of Georgia School of Law, and George Washington University School of Law.
As a young legal scholar, Louis Sohn left Poland two weeks before the invasion by Hitler's Germany. He stayed in his first position, as a Harvard law professor, until 1981 at which time he came to the University of Georgia School of Law at the invitation of former Secretary of State Dean Rusk. Professor Sohn also served as a member of the U.S. delegation to the San Francisco Conference of 1945, at which the United Nations Charter was signed. During the Conference he helped draft the statute establishing the International Court of Justice. From 1974 to 1982 he was involved in the conference which drafted the United Nations Convention on the Law of the Sea. Photo of Louis B. Sohn © Paige Otwell.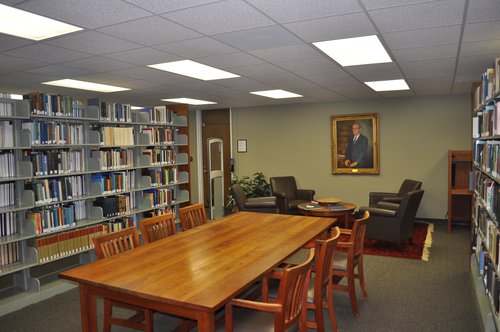 During his lengthy and distinguished career, Professor Sohn built his collection around situations he perceived as impacting international relations, including books on history, philosophy, religion, demographics, customs, economics, geography, language and, of course, law. Because of this extraordinary effort, a researcher using these materials can assemble a full, three-dimensional picture of the conditions that prevailed as the situation developed. The Alexander Campbell King Law Library has long been proud of our connection to Professor Sohn and of the collection he donated to the library.
The photo above is of the Sohn library collection when it was housed in the Law Library on the 3rd floor. We continue to add new titles to this collection, and we encourage researchers to use these important resources. If you would like to check out materials from the Sohn Library, or just want to visit the collection, head on over to the Dean Rusk International Law Center in Rusk Hall, where Center staff will assist you. You may return any Sohn Library items you check out to either the Center or the Law Library. Lastly, here is a photograph of the current location of the Sohn collection that you can now find on the 2nd floor of Rusk Hall.